Alora Nowlin Named Runza Student of the Week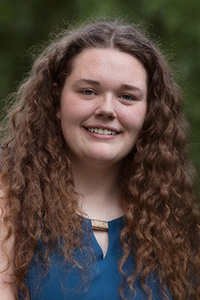 Alora Nowlin, a Treynor High School Senior, was named Runza Restaurant's Student of the Week recently. Runza personnel came to the school with the KETV film crew to video Alora in action on Tuesday, March 5th. This award honors senior students for their achievements in the classroom and community and provides them a $500 college scholarship.
Some of Alora's student activities include Student Council Vice President, Treynor Board of Education Student Member, School Improvement Advisory Council Member, National Honor Society member and current-year historian, Mentors in Violence Prevention, Treynor Speech Team and manager for two years, Spanish Cadet Teacher and Quiz Bowl Member and Captain for 2 years. Her community involvement includes Pottawattamie Youth Council, Council Bluffs Youth Leadership, Girl Scout Advisory Group and Member, Treynor Junior Optimist Member and current President and past Treasurer, Youth Salute Program, Keep Kids Alive Drive 25 Committee member and current Chairman, and Sunday School teacher. Alora has also served as a Junior Tech at Treynor since 8th grade and has helped to grow and train underclassmen for the program.
Congratulations on this fine achievement, Alora! You embody the "Excellence is Expected & Excellence is Achieved' motto of Treynor CSD.
Watch Alora's feature video here.