Treynor CSD TeamMates
TeamMates Mentoring will be starting in March for any 4th or 7th grade student. If you are interested in serving as a mentor, please contact Mrs. Danie Floerchinger or Mrs. Carrie Currin.
What is TeamMates?
The mission of TeamMates is to positively impact the world by inspiring youth to reach their full potential through mentoring.
Tom and Nancy Osborne founded the TeamMates Mentoring Program in 1991 in an effort to provide support and encouragement to school aged youth. The goal of the program is to see youth graduate from high school and pursue post-secondary education. To reach this goal, youth meet up to one hour per week with a caring adult who serves as a mentor. Mentors are volunteers from the community who have dedicated themselves to making a difference in the life of a young person. Mentors give youth a sense of hope, purpose and vision.
Providing Hopefulness
A 2011 study TeamMates conducted with Gallup found that their mentors have the ability to have a statistically significant impact on the level of hope their mentee has. By simply showing up, week after week, mentors build on a sense of hope in their mentee. A 2019 annual survey found that 91% of mentees reported higher levels of hope as a result of their mentor. This hopefulness manifests itself in greater confidence, positive feelings about the future, and higher quality of living. One student put it this way, "A mentor can make you feel hopeful when all else seems to go wrong." Another student noted, "My TeamMate teaches me that there is hope in my future and he believes in me."
"A mentor can make you feel hopeful when all else seems to go wrong."
"Without my mentor I don't think I would have made it through high school without any trouble and may not have even passed my classes. My mentor really helped me put my life on track when I felt like giving up."
Over time, engagement in the classroom naturally drops. Gallup's school cliff shows engagement is highest in elementary school, dropping in middle school, and reaching its lowest point in high school. A mentor in a young person's life motivates them to come to school and stay engaged in the learning process, consequently, working to combat the natural tendency of the school cliff. 85% of TeamMates mentees state that having a mentor makes them excited to go to school.
How to become a Mentor
To become a mentor, visit the Mentor Application page to fill out an application For additional questions, email any of our local coordinators, Carrie Currin, Danie Floerchinger or Jennifer Nelson.
FAQs
What are the qualifications for a volunteer?
Volunteers who care about youth and are positive role models are encouraged to be mentors. Mentors must be at least 18 years of age and have a high school degree or GED equivalent.
Why Mentor?
Mentoring is making an investment in the future. By spending up to one hour each week with a student and showing your interest in their life, you can increase the likelihood they will graduate from high school and become a contributing member of society. Mentors help identify the gifts and talents of young people that provide them a sense of hope and vision for their life.
What are the Age of the Youth?
TeamMates focuses on mentoring youth beginning as early as 3rd grade. Mentors are encouraged to continue in the mentoring relationship until the student graduates from high school. Treynor CSD will focus first on 3rd and 6th grade youth.
How can a student become involved?
Students can either self-nominate or they are nominated for the program by a caring adult in their life. Typically, this is a teacher, guidance counselor, parent, or community member. This program is for all students, not just "at-risk" students.
What happens during a mentoring session?
Each mentoring relationship is unique. However, the sessions happen weekly for up to an hour and the focus ranges from helping with homework, to sharing a hobby or special interest, to simply sharing thoughts and ideas. Sessions happen within the school day time frame, and can be during, before or after school.
Where can I learn even more about this program?
Visit the official Teammates.org website.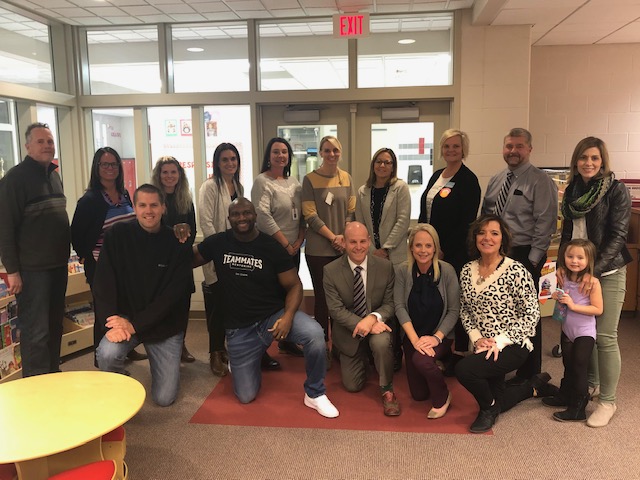 December 6, 2019: TeamMates Advisory Meeting
Pictured Back Row, L-R: Tom Lewis, Traci Dresher, Jen Nelson, Amy Bierbaum, Jen Tiarks, Danie Floerchinger, Natalie Suden, Sally Myers, Mark Hopkins
and Shelly Guttau; Front Row, L-R: Jordan Campbell, TeamMates Rep DeMoine Adams, Dan Kinsella, Jill Kay, Jenny Berens and Shelly's daughter.